Fort Siloso is Singapore's fascinating coastal fort and on-site military museum containing well-preserved WWII military structures complete with wax figures of Japanese and British soldiers. The fort is located on Sentosa Island, an island south of mainland Singapore, adjacent to Keppel Island. For WWII history buffs, a visit to the fort (free entrance) is a far better choice compared to Madame Tussauds in the same island. The Fort can be reached via a free beach shuttle from Beach Station. The Fort is open from 9 am to 6 pm but I'd definitely recommend avoiding a visit at noon as the place can be scorching hot – some parts of the Fort are not covered. An excellent map of the Fort can be downloaded from this link. 
Entrance to the Fort is via Fort Siloso Skywalk which is 11-storeys high and 181 meters long – this treetop trek provides visitors with panaromic views of the fort and city centre.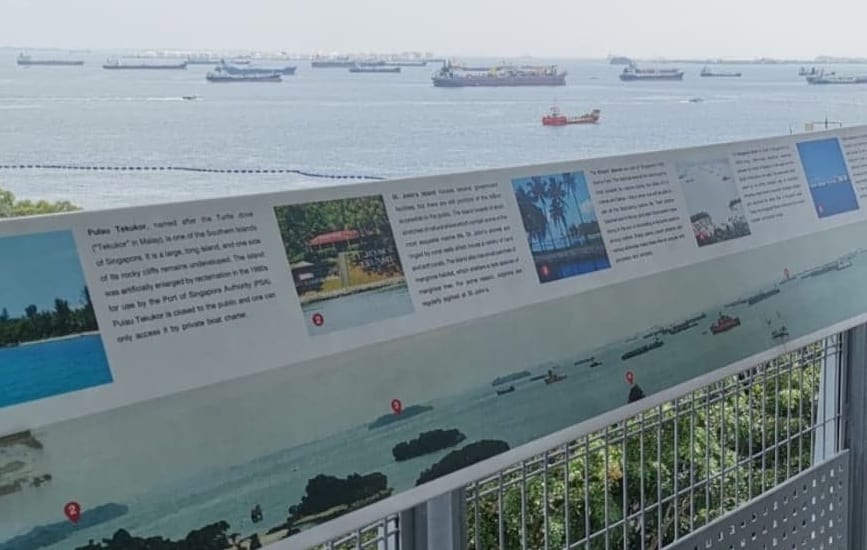 There are a lot of standalone "houses" which showcase many exhibits describing WWII history of the British and Japanese armies. Most (if not all) of these houses are air-conditioned. These air conditioners were a welcome sight for us because the humidity was overwhelming.
One of the highlights of a Fort Siloso visit is the Surrender Chambers – a chamber that shows the formal Japanese surrender to the British in 1945 via wax models made by professionals from Madame Tussaud's Wax Museum in London. Bear in mind, the wax figures in Fort Siloso can look a bit creepy to children – use your discretion wisely if your children are tagging along. 
At the Fort, there is a large 230 m long mural which was drawn by a local muralist, Yip Yew Chong. He also drew many murals which are scattered all around Singapore, including touristy and non-touristy places. A visit to Fort Siloso can also be combined with a visit to the Mess Hall in Sentosa Island (a former soldiers' recreational area which is now a gazetted heritage area). 
Purchases made via any of the links on this post may generate an affiliate commission used to support the running of the site.