Soldeu is a popular family-friendly ski town located in the small, landlocked and mountainous country of Andorra. The country is situated in the Pyrenees mountains between Spain and France with a small Spanish/Catalan-speaking population. When planning for our a ski trip to Soldeu, there was a lack of consolidated tourist guidelines for independent travellers. Herein, we describe our ski holiday experience in Soldeu, Andorra for the benefit of our readers. 
Getting In (From Toulouse, France)
There is no public/commercial airport in Andorra due to its mountainous terrain and size. The most common way of getting into Andorra is via road transport, in particular bus transport. Tourists normally fly in to either France (e.g. Toulouse) or Spain (e.g. Barcelona) before boarding a bus/van or renting a car for further travel into Andorra. 
We bought online bus tickets (64 Euros per adult) from AndBus and boarded the bus at Toulouse bus station (gare routiere) located next to the main train station. The bus ride to Andorra (Soldeu) took about 3.5 hours one way and there was free wi-fi onboard. Andbus is also available for the Barcelona-Andorra route. For non-skiers who would like to just do an Andorra day trip from Barcelona, Viator has a special day trip package which includes private tour and hotel pickup. 
Given Soldeu's reputation as a family-friendly skiing destination, we chose Park Piolets Mountain Hotel & Spa in Soldeu for our accommodation. It was relatively pricey (about 240 Euros with breakfast for a base room) since our stay was during the Easter holiday period. Ski equipment can be rented from a shop located in at basement of the hotel – the hotel also provides free van transport for hotel guests to the Grandvalira ski station (few mins drive). The hotel also features a kids' club with a small indoor playground and activities. We also considered Hotel Naudi which was close by but decided to book Park Piolets Mountain Hotel & Spa at the end.
Soldeu is a compact and relatively quiet town, with restaurants, ski shops and hotels located along the main road on either side. We had dinner at Fat Albert's, a popular restaurant just next to the heritage church. 
Grandvalira Ski Resort @ Soldeu
In Andorra, there are two large skiing areas, namely, Grandvalira and Vallnord. Soldeu is situated in Grandvalira – the ski lift station is located just minutes from our hotel. Day passes can be either bought online, from travel companies or via the ticketing booth at the station. A 1-day ski pass cost about 50 Euros per person with a wi-fi password printed on the ticket. Facilities at the ski area include mat, rope, button lift, chair lift, gondola and beginners' slope. There are a few restaurants located at the top end of the gondola station – a lunch meal would cost about 10 Euros.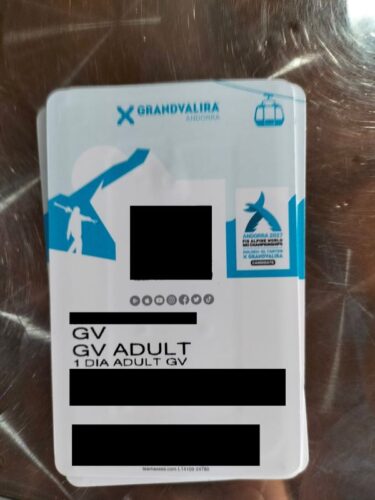 Travel to Andorra la Vella
We also travelled to the capital city of Andorra – Andorra la Vella, which is known for its shopping district. The bus stop to the city (bus no L4 – around 30 min ride) is located in front of the car park/tourist information centre in Soldeu (about 100 m from our hotel). Beware! No one seemed to know the exact time of arrival of the L4 bus! We asked the tourist info centre worker and hotel reception but they referred us to the schedule online (which was not accurate – the bus arrival times were erratic). Therefore, if you are in a hurry, a taxi might be a better option. The city centre is quite picturesque with snowcapped mountains visible on the horizon. Plenty of shops, shopping centres, cafes and restaurants can be found in the city (which is quite walkable).