In this travelogue, we share our personal experience in exploring Bali's top attractions and cultural landmarks. From popular beaches to fascinating temples, discover the best of Bali. In our opinion, the island is, quite possibly, one of the most overhyped and overpublicized touristic islands in the world. To be honest, our Bali trip was a mixed bag. Positives included affordable accommodations and cheap dining options while negatives included run-down & dirty infrastructures, traffic jams as well as very hot/humid weather (not our thing). Read on for travel insider tips and recommendations to make the most of your trip.
Ngurah Rai International Airport is full of aggressive taxi touts that often blocks access of ride-hailing (eg Grab or Gojek) drivers at the airport pick up areas. Hint: Either use the airport transfer services provided by your hotel or pre-book online using providers such as Klook or Viator.  
We hired a driver with a van which could fit in 14 people for 10 hours via Klook (cost about USD 80 not including tips). Bali is notorious for its traffic jam due several reasons. Firstly, Bali's road infrastructure is not well-developed to handle the growing number of vehicles on the island, resulting in congestion during peak hours. Secondly, Bali's road rules are often not strictly enforced, leading to reckless driving and unsafe road conditions. Thirdly, Bali's narrow roads and winding streets can make it difficult for vehicles to pass each other, leading to traffic jams. To circumvent this problem, many tourists resort to renting affordable scooters to avoid getting stuck in traffic jams. 
For our recent trip to Bali, we stayed at the following hotels/resorts which were scattered throughout attraction hotspots in the island: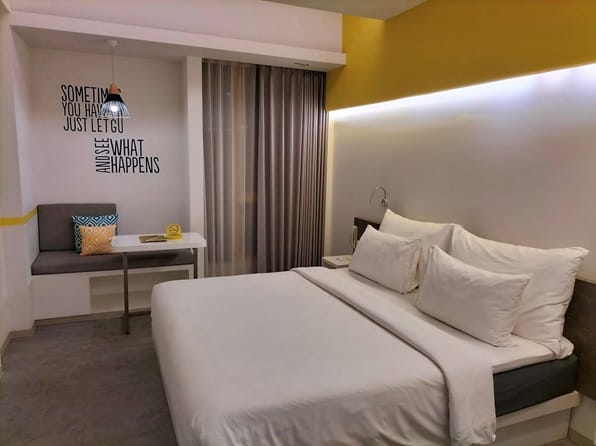 Kuta Town is a popular tourist destination in Bali but its popularity has taken a backseat lately due to emergence of Canggu and Ubud as hotspots. The town is known for its beaches, lively nightlife and diverse range of activities. The Town is easily accessible from the nearby Ngurah Rai International Airport (10 minutes by car in normal traffic). Hint: Anyone facing a layover at the airport hoping to venture out to Kuta for a short trip should be aware of traffic jams as well as possible street parades – these could derail plans for a fast return to the airport to catch connecting flights. 
Located in the Gianyar Regency about 35 km north of the international airport, Ubud is a cultural hub surrounded by vast rice paddy fields and dense forests. It offers a picturesque setting for travellers to explore and undertake popular wellness programs (yoga and meditation classes). It is a popular destination for those seeking a peaceful escape from the hustle and bustle of Bali's busy town areas. 
We visited attractions such as Ubud Palace, Street Markets and attended a few cultural night performances at various places around the town centre (e.g. Ubud Palace). Hint: Ride-hailing vehicle drivers (eg Grab or Gojek) are parked at various hotspots scattered around town waiting for customers to hire them using the apps – wait for them to approach you after you have used the app to order a ride.
3. Tegallalang Rice Terrace
Tegallalang Rice Terrace is located in the village of Tegallalang, just a few kilometres north of Ubud. The terrace offers panoramic views of sculpted rice paddies which have been cultivated for centuries using traditional irrigation systems. We visited the Uma Ceking Resto and Swing, which is basically a restaurant located on the rice terrace which charges 50,000 IDR per entry (not inclusive of food or drinks). 
Canggu is a coastal town that has emerged as one of the island's most exciting destinations for surfers, foodies and digital nomads (post-Covid). It is situated on the west coast of Bali, just north of the bustling tourist hub of Seminyak. There are plenty of healthy cafes and local warungs serving up traditional Indonesian cuisine.
Tanah Lot is a scenic temple perched on a rocky outcrop on the southwest coast of Bali. This iconic destination is renowned for its stunning sunset views and its unique cultural significance. The temple is said to be dedicated to the sea gods. Tanah Lot is surrounded by a landscape of crashing waves and can be accessed during low tide. The entrance fee is 60,000 IDR for adults (year 2023). 
Uluwatu Temple is a scenic temple situated on the southern coast of Bali. This ancient temple is perched on a high cliff overlooking the Indian Ocean, offering an excellent panorama of the island's rugged coastline. Tourists can explore the temple grounds which include several shrines and courtyards, as well as a resident population of mischievous (and infamous) monkeys.
Hint: The monkeys in Uluwatu Temple are notorious for stealing stuff from tourists and they particularly like glasses, hats and phones. Glass wearers should be extremely cautious and keep them away while wandering the temple grounds! The entrance fee is 50,000 IDR for adults (year 2023). The temple is well-known for its Kecak Fire and Dance Show which is a traditional Balinese dance performance famous for its intricate choreography, music and dramatic fire display.