I was fortunate enough to visit Almaty, the former capital of Kazakhstan a few years ago for a business trip. It was smack in the middle of the winter season and temperatures could dip to -20 degrees Celcius. As mentioned in a previous post on my Nur-Sultan (Astana) visit, a trip to Kazakhstan can be both fascinating and strange (e.g. shared taxi rides and massive Russian-influenced buildings). In this post, discover the things to do and various attractions in Almaty. 
I stayed at the Best Western Plus Atakent Park Hotel, which was a decent hotel located next Almaty's Botanical Garden. The base room cost less than USD 60 inclusive of breakfast. KFC and a convenience store are located just next to the hotel. 
Travelling by bus in Almaty can be quite the experience. The fee was 150 tenge if paid directly to the bus driver, and 80 tenge if paid using an Onay Card. The buses are not sophiscated and expect the interior to be packed like sardines during peak hours. 
2. Park 28 Panfilovtsev (Park of 28 Panfilov Guardsmen)
This is a city park named after the 28 soldiers who died while fighting against Nazis during WW2. It is an interesting and expansive park but ain't the most fascinating WW2 exhibit – the WW2 wax figures in Fort Siloso, Sentosa in Singapore are more unique, in my humble opinion. Nonetheless, a trip to the Park's MIlitary History Museum may be worthwhile. 
3. Ascension Cathedral (Zenkov Cathedral)
Located in the middle of the Park is the Ascension Cathedral, also known as Zenkov Cathedral. This Russian Orthodox cathedral was completed in 1907 and made of wood and connected by iron bolts. It is one of the most popular landmarks in Almaty with a height of 56 meters.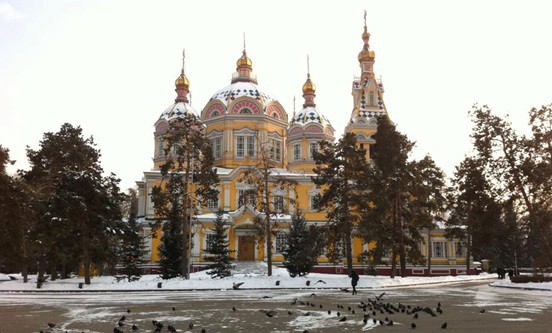 I did a brief tour and walkabout within the city centre, i.e. combined walking and taxi rides. I hailed taxis from the street and haggled the fees directly with the drivers. In Kazakhstan, it is the norm for people to take rides with strangers (I experienced this in Nur-Sultan and Harbin, China as well). Visitors can also use Yandex, the Russian Uber to get rides. For more information on Almaty taxis, please visit this blog link. The city centre was relatively uncrowded which was understandable given the freezing conditions. Shopping centres were quite "empty". 
5. Al-Farabi Kazakh National University
I visited one of the local universities in Almaty – the Al-Farabi Kazakh National University because the main campus was located just 1.5 km away from my hotel. The university was named after a prominent Eastern scholar (Al-Farabi). The campus was enveloped in thick and white snowy layers.