Western Australia destinations are often overlooked by tourists in favour of better-known Eastern destinations such as Sydney or Melbourne. The fact that Perth, the western capital, is one of the remotest capital cities in the world, does not help. Despite this, Perth does receive its share of international as well as domestic tourists due to its relatively well-connected flight routes (especially flights from Malaysia, Singapore and Indonesia). On our previous visits to Perth, we rented a car at Perth international airport and stayed at the following hotels in the CBD:
Tribe Perth Kings Park, Perth, Australia (ca USD 100 per night for a base room, no breakfast). Review: Comparatively pricey with limited parking space (AUD 30 per day). Rooms are modern and clean. 
Quality Hotel Ambassador Perth, Perth, Australia (ca USD 80 per night for a base room, inclusive of breakfast). Review: Nightly rate is cheap and there is an open air car park at the back of the hotel – charged at AUD 12 per day but guest rooms are a bit dated. 
Quality Hotel Bayswater (ca USD 100 per night for a base room, no breakfast). Review: Not located in the CBD. Free onsite (enclosed) parking was a big plus. We were given an "old" room which was crappy but was moved to a modern refurbished room after making a complaint. 
Here are some recommended places to visit in Perth – the list is essentially a mix of popular as well as lesser-known (and unique) destinations. We highly recommend getting a rental car to get around – if not, the hop-on-hop-off bus tour might be an option. Perth is a good base for tourists to explore the South West Australia region. Travel tip: Bring along sunglasses even if you are not a sunglasses person – Perth is a very sunny city with overwhelming sun glare. Also, get an insect repellent before visiting – Australia is full of pesky flies especially during summertime (they would try to burrow into your ear or nostril to get moisture – not a pretty sight). 
1. Kings Park and Botanic Garden
The park is the quintessential tourist destination in Perth. Located on a hill, it offers fantastic vantage points and panaromic views of the CBD and Swan River. The area is huge and features attractions such as the giant boab tree, glass arched bridge, etc. The Botanic Garden exhibits over 3,000 species of Western Australia's unique flora. Maps of the place can be found here. 
2. The Bell Tower & Elizabeth Quay
Widely regarded as one of the main landmarks in Perth, the Bell Tower is a must-visit attraction. Visitors can get great views of the Swan River from its 6th floor observation deck. Elizabeth Quay is a relatively new waterfront precinct situated on the banks of the Swan River. Attractions in the Quay include public artworks, children-friendly places, a jetty, etc. 
Crown Perth is a complex consisting of hotels, entertainment centres and a casino located in the suburb Burswood. There are also many food and beverage establishments as well as recreational facilities. 
4. London Court, Hay Street & Murray Street Malls
The London Court, Hay Street and Murray Street Malls are the main shopping areas in Perth CBD. Both the Hay Street Mall and Murray Street Mall are open air malls featuring shopping arcades, boutique stores, cafes and restaurants. London Court is a shopping arcade modelled via Tudor England architecture.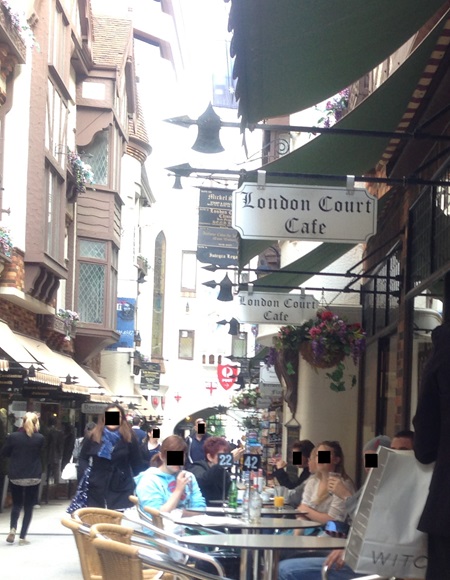 5. Crawley Edge Boatshed (Blue Boat House)
A perennial social media favourite, this blue boatshed is often the subject of instagram hashtags. In truth, there is nothing remarkable about the boatshed – so lower your expectation. Sometimes, there is algae growth around the boatshed area which can make it unsightly. To visit the shed, park your car on Kings Park Avenue (opposite the shed and up the hill). The boatshed is located near the picturesque University of Western Australia campus which is also worth exploring. 
6. Sandalford Wines (Winery), Swan Valley
Sandalford Wines, located in the popular touristic region, Swan Valley, is one of the most established wineries in Western Australia. Wine tasting sessions are available and there are many picturesque settings within their premise and vineyards.
The very scenic Cottesloe beach is one of the most popular beaches in Western Australia. In addition to the usual activities (swimming, snorkelling, etc), visitors could check out seaside exhibition (sculptures). Tourists need to be careful of possible shark attacks though…
Fremantle "Freo" is a suburb (port city) located approximately 19 km from Perth CBD. It is very popular with tourists for its alfresco dining, markets, cafes, prison, pubs, bars and laid back atmosphere. For those interested, there is a hop-on-hop-off tram tour in Fremantle. Fremantle Markets houses food & trinkets stalls in a heritage-listed building where you can buy (overpriced) souvenirs for your friends. 
9. Cicerello's, Fremantle
Visitors to Fremantle are likely to be directed to Cicerello's (next to Little Creatures Brewery) to taste their "famous" fish n' chips. For us, its fish n' chips meals are merely OK and rather pricey in our opinion (a basic fish n' chips meal would set you back about AUD16).