Experience the best of Kuala Lumpur's vibrant culture and unique attractions while navigating the city using its public transportation system. As a tourist destination, Kuala Lumpur, Malaysia is often overlooked and yet it surprises visitors with its charm and affordability for the budget-conscious travellers. In this post, we highlight some of Kuala Lumpur's attractions/places to visit and public transport network which we have experienced thus far. 
To get around Kuala Lumpur, we would recommend combining local public transport with the use of ride-hailing app for convenient travels within the city. We used Grab (ride-hailing app) for all of our local KL travels as it was cheap, convenient and abundant – this is similar to our previous trips to Indonesia and Vietnam. 
The Klang Valley Integrated Transit (KVIT) is a comprehensive transportation system that serves the Klang Valley (i.e. greater KL) region in Malaysia. It encompasses various modes of public transportation including trains, buses, feeder services and the Monorail. The Mass Rapid Transit (MRT) lines form the backbone of the system, connecting major residential and commercial areas. The Light Rail Transit (LRT) lines complement the MRT system while the Bus Rapid Transit (BRT) and feeder services ensure connectivity. Additionally, the Monorail, with its elevated tracks, offers a convenient mode of transportation that serves key areas in the city centre. All these modes of transit are integrated under a single network, with an integrated ticketing system that facilitates convenient travel across the region.
For our KL trip, we bought single tickets (or rather tokens) from the token machines which were available at all stations. Both cash and credit card were accepted. We tapped our tokens on the designated card reader to enter the station and retained them for the duration of our journey. Upon exiting at our final station destination, we inserted the token into the fare gate to complete the trip.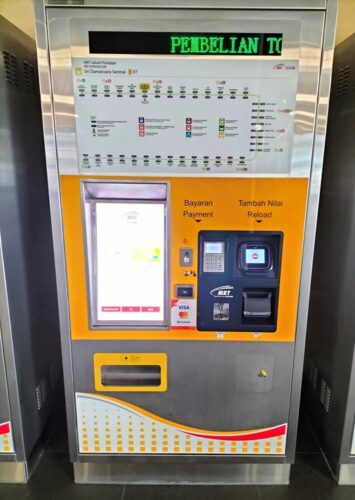 Unique Attractions and Places to Visit
The Petronas Twin Towers soar to a height of 452 metres, making them among the tallest (and the most recognizable) twin towers in the world. The towers feature a sleek and distinctive architectural style that blends Islamic motifs with contemporary elements. The 88-story towers are connected by a skybridge on the 41st and 42nd floors, offering great panoramic views of the city. The Petronas Twin Towers house offices, upscale shopping malls (eg Suria KLCC), a concert hall and a science discovery centre. Be sure to visit the Skybridge and Observation Deck to catch the excellent panoramic views of the city – tickets can be purchased here. 
The KL Tower, also known as Menara Kuala Lumpur, is an iconic landmark in the heart of KL. Standing at a height of 421 meters, it offers spectacular views of the cityscape and has become a popular tourist attraction. The KL Tower also offers the highest revolving restaurant in Southeast Asia and various other attractions such as a mini zoo, a cultural village and a skydeck. 
3. Kwai Chai Hong (Little Ghost Lane)
We have previously covered Kwai Chai Hong (literally means "little ghost lane" in Cantonese) in a prior post. It is a rustic but unique/instagrammable attraction in KL. It is essentially a reclaimed abandoned alley which showcases the lives of chinese settlers in Kuala Lumpur in the olden days. The alley/lane leads to several cafes and bars, with accompanying murals documenting the place's history. Be sure to visit the place at night time as well, since the elaborate lighting/lanterns illuminate the place nicely. 
Accommodation pro tip: For visitors hoping to explore Kwai Chai Hong and Chinatown, it is highly recommended to stay at Four Points by Sheraton which is located next door. It is very affordable by the usual Four Points standard with base room (no breakfast) going for as low as USD 40! There is no need to have breakfast at the hotel since there are plenty of cafes and restaurants around the hotel. The hotel is an excellent base for exploring the usual KL tourist hotspots. 
Petaling Street, located in Chinatown, is a bustling market street renowned as a haven for bargain hunters and foodies. The narrow, crowded lanes are lined with shops and stalls selling a wide array of goods including clothing, accessories, electronics and souvenirs. Pro tip: Be sure to bargain hard and haggle prices as this is the cultural norm here.
5. Tugu Negara (National Monument)
Tugu Negara, also known as the National Monument, is a significant historical and commemorative landmark. The monument stands as a tribute to the fallen heroes who sacrificed their lives in Malaysia's struggle for independence and in defense of the nation. The centerpiece of Tugu Negara is a bronze sculpture depicting soldiers in various poses, symbolizing unity, strength and resilience. Surrounding the monument is a landscaped park that provides a serene and reflective space for visitors.
6. LaLaport Bukit Bintang City Centre
Lalaport Bukit Bintang City Centre is a mixed-use development with an integrated shopping mall and residential area. Lalaport offers a diverse range of retail options including international brands, specialty stores and a variety of restaurants. Visitors can enjoy a scenic (instagrammable) view of Merdeka 118, the 2nd tallest building in the world, from Lalaport's Central Rooftop Garden.
The Thean Hou Temple is a Chinese temple popular with tourists and locals. The temple features stunning blend of traditional Chinese architectural elements and modern design. Perched on a hilltop, it offers panoramic views of the surrounding cityscape. The temple showcases intricate craftsmanship and ornate details with vibrant red pillars, roofs adorned with dragon sculptures and intricate carvings depicting mythological scenes. Inside the temple, visitors can explore various prayer halls and altars dedicated to different deities from the Chinese pantheon. The temple is a popular venue for cultural events, festivals and traditional Chinese celebrations.
Desa ParkCity is a residential township located in a KL suburban region popular with expats and locals. At the heart of the township lies a park with a serene lake surrounded by a boardwalk and lush greenery, providing a scenic spot for visitors and residents. Two prominent commercial centres, namely, the Waterfront and Plaza Arkadia add to the charm of Desa ParkCity, with a diverse range of shops, restaurants, cafes and entertainment options.