In our previous visit to Oslo, we travelled to Flåm by car to experience the Nærøyfjord cruise. Since there were four of us, the road trip (total 6-7 hours) by car was not the most comfortable but it was significantly cheaper than travel by rail or flight. It was very obvious to us that Norway was a very expensive country for tourists (comparable to Switzerland and Australia) and cramming into a small Volkswagen Golf rental car would save us loads of money (yes, we were a bit skint at that time). In this post, we will show the places along the Oslo-Flåm route which we had been to and hopefully these information can be useful to potential travellers. 
We arrived in Moss Airport Rygge via a Ryanair flight from Edinburgh, Scotland and promply collected our VW Golf rental car. We stayed a night at Quality Hotel 33, located just on the outskirts of the city centre which cost 1180 NOK (about 145 USD) for a standard room for four people inclusive of parking and buffet breakfast (pre-covid). This was quite reasonable considering the fact that many budget hotels in Oslo were quite expensive and we would highly recommend this hotel for a family of four with a rental car. 
We spent the next day doing the usual touristy stuff in Oslo –  basically wandering about the usual hotspots (Oslo Opera House, Karl Johans gate – the main shopping street, The Storting Building, The Royal Palace and Frogner/Vigeland Sculpture Park). All these places with the exception of the Frogner/Vigeland Park are within walkable distances. For those travelling without a car or prefer to cover more touristy places, we would recommend the Oslo Hop-On Hop-Off Bus Tour (USD 46) by Viator. 
Frogner Park / Vigeland Sculpture Park
The unique and famous Vigeland Sculpture Park (free entrance) is located in Frogner Park. There is a paid parking area next to Frogner Park. The sculpture park contains 200 sculptures in granite, bronze and wrought iron which were installed from 1940 to 1949. The main attractions in the Park are The Monolith, The Fountain and The Bridge. 
The road trip from Oslo and Flam was generally straightforward but we needed to be very mindful of speeding cars – apparently the Norwegians drove faster that what we were accustomed to. The views were very scenic but since we did not stay overnight along the route, it was very tiring for all of us. We would recommend anyone taking on this route to stay overnight at the ski resort town of Hemsedal (we did not). One of highlights of our trip was the journey on the 24.51-km-long Lærdal Tunnel which is the world's longest road tunnel. The blue lighting along the tunnel made the trip memorable.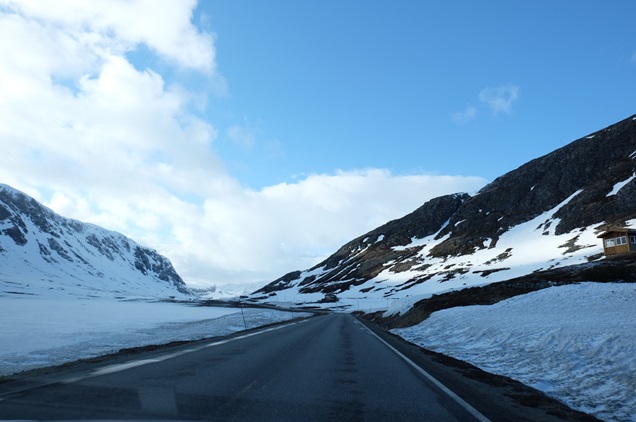 Flåm is a very small town. We stayed overnight at the Brekke Gard Hostel, a red-painted house with a structurally wooden interior. We booked a family room with shared bathroom for NOK 700 (about 85 USD) without breakfast. Parking can be done freely anywhere within the grassy area surrounding the hostel. The hostel is located just across the Fretheim Bridge from the boat docking area / train station in Flåm. For a cultural immersion experience, tourists could experience a Viking village setting at Flam complete with a meal.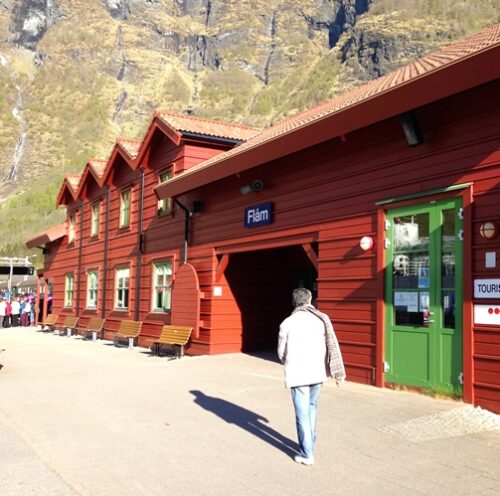 On our way back to Oslo, we stopped by the very distinctive Borgund Stave Church. The Church was built around 1180 and features carved portals and roof carvings of dragons's heads. The architectural style of stave churches in Norway are thought to be infused with pre-Christian Viking themes with animals and dragons. The surrounding trees made for a very picturesque backdrop. 
Our last road trip stop was Drøbak, a popular sea-side tourist town with lots of boats, restaurants, art galleries and small wooden houses. We decided to visit Drøbak because it was located near Moss Airport Rygge – we had about a few hours to kill. At that time, it was very quiet and there was hardly any tourist – we later heard from locals that the place are normally packed with tourists in the summer.