Busan, a port city, is the second most well-known city in South Korea, after Seoul. In recent years, the city is getting more popular with tourists due to its famous beaches and more laid-back vibe compared to Seoul. In this post, we outline our travel experience, transportation tips from Busan to Haeundae as well as attractions and things to do in this region.
KTX Train from Seoul to Busan
We took the KTX Train from Seoul to Busan as it was the most convenient (albeit pricey) mode of transportation. The train itself seemed dated and looked very much like what was portrayed in the popular zombie movie, Train to Busan. We bought the tickets from a vending machine at Seoul station. Travellers might be interested in purchasing Korea Rail Pass (KR Pass) from Klook to take high-speed KTX train rides. Hint: Depending on the travel routes, tourists may be able to save by selecting either consecutive or flexible days passes. There is a "Saver" rate which is a cheaper option for tourists travelling in a group.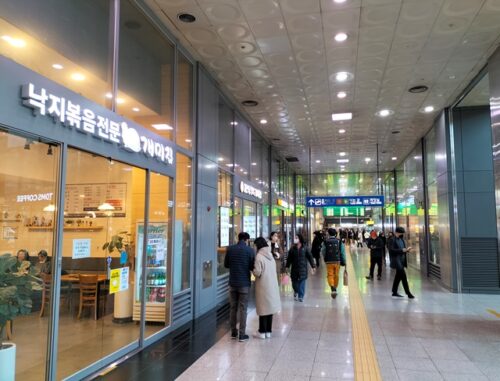 In Busan, we stayed at Ramada Encore by Wyndham Busan which was located just next to Busan Station – we paid about USD 90/night for a double room (with breakfast) via Agoda. The room is quite small but compensated by its clean room, good location, good breakfast spread and a coin-operated laundry room. In addition, the taxi rank is located directly in front of the hotel while the bus station is just a few steps from the hotel. 
Many tourists prefer to stay in Haeundae rather than Busan City Centre as Haeundae is a vibrant hot spot. Here are some affordable Haeundae accommodation options:
A thing to note: Haeundae is quite a distance away from Busan station (30 min by taxi and 1 hr by public transportation) and travelling with your luggage via bus/subway can be a hassle. As such, travellers would need to decide on accommodation in either Busan or Haeundae based on their preference. 
Transportation from Busan to Haeundae
T-money cards can be used for public transportation (bus/subway) in Busan (i.e. similar to Seoul). We used the cards which we bought and top-upped in Seoul. We also used Kakao T app (Korea's Uber equivalent) to travel to nearby places as we travelled as a family (group of three). Tip: Most (if not all) Korean taxis accept foreign credit cards, T-money card and cash onboard), so there is no need to include your credit card details in the Kakao T app as passengers are allowed to pay after completion of the trip.
We used a hybrid approach in terms of getting around in the Busan/Haeundae region – combining both taxi and public transportation. We took the bus/subway for long trips such as the Busan-Haeundae route and taxi rides for short trips such as Busan city-Gamcheon and routes less than 4 km. We took Bus No 1001 or 1003 frequently for the Busan-Haeundae route as they are both direct routes without having to change bus or subway. Hint: The Busan-Haeundae bus ride can be rather long when travelled during rush hours as the traffic volume is very high with plenty traffic lights along the way. Therefore, travellers should factor in additional time as buffer. 
Attractions and Things to Do
Busan Chinatown, also known as Choryang Chinatown, is located right next to our hotel and in front of Busan Station. When we visited the area, it was quite muted with very few patrons. The street next to Chinatown is called Texas Street which is a clubbing area catering to foreigners like Itaewon in Seoul. It was absolutely quiet and almost all pubs and bars were closed (an aftermath of the pandemic). 
2. Busan Station Underground Shopping Center
The Busan Station Underground Shopping Center is located just in front of Busan Station. The underground subway mall is packed with shops selling comparatively cheap clothes and other stuff like ornaments and ladies' accessories. Hint: Be sure to carry cash as many shops only accept cash. 
3. Gamcheon Culture Village
4. Haeundae Blueline Park (Beach Train and Sky Capsule)
The Haeundae Blueline Park is a newly-developed touristic area built on an old railway facility of the East Sea South Line in Busan and famous for its Beach Train and Sky Capsule. The Park has been heavily featured on social media (particulary TikTok) – therefore, it is vital for anyone hoping to get a ride in the Sky Capsule to go to a station early in the morning. We did not have a Korean credit card and as such, we could not buy a ticket online – We went to Mipo Station early in the morning (about 9:30 am) and managed to purchase the tickets for a 10:30 am slot. We took Bus no 1003 from Busan and alighted at the bus stop nearest to Mipo Station (e.g. 미포.문탠로드입구) and walked to the Station. 
5. Haeundae Centre & Beach and Songjeong Beach
Haeundae city centre is a very lively part of Busan and very touristy. For tourists seeking a more vibrant atmosphere, they would be better off staying at hotels here rather than Busan city centre. Haeundae Beach is purportedly the most famous beach in Busan. The beach is about 1.5 km long with huge crowds visiting especially during the summer holidays. 
6. Haedong Yonggungsa Temple
The Haedong Yonggungsa Temple is a Buddhist templated located on the coast of the northeast Busan. The temple can be reached via Bus no 1001 from Busan City Centre. Alight the bus at a bus stop that is close to the temple (eg Dongbusan Tourist Complex) and walk to the temple for about 10 minutes. It can also be reached from Songjeong via a short Taxi ride. Entrance to the temple itself is free, though the place can be quite crowded. There are plenty of shops and street vendors leading up to the temple. The temple and other main Busan attractions such as Gamcheon can also be collectively visited via a tour package. We did not book a tour package as we felt they could be visited via public transportations. Nonetheless, tourists looking for convenience could opt for an affordable Busan tour package offered by Klook (USD 42).
7. Lotte Premium Outlets - DongBusan
A visit to the Haedong Yonggungsa Temple can be combined with a visit to Lotte Premium Outlets which are a mere few mins taxi ride from the temple. Here, tourists can find shops selling the usual outlet brands. 
Busan is famous for its seafood due to its location as a port/coastal city – so, be sure to sample some Busan seafood. Also, do not forget to try Busan's signature food, Dwaejigukbap (Pork and Rice Soup) and Milmyeon (wheat noodle in a cold broth). They are usually accompanied by condiments such as Kimchi, thick pastes, etc.