Palma de Mallorca (Majorca) is the capital city of the Balearic Islands, Spain. Palma boasts attractions such as the imposing Palma Cathedral, Almudaina Royal Palace, stunning beaches and Bellver Castle, offering visitors a rich blend of history and modernity. From its ancient roots as a Roman settlement to its time under Moorish rule and subsequent Christian conquest, Palma's rich past is obvious as you wander through its winding streets and squares. In this blogpost, we try to capture the essence of this unique city and document our visit through Palma's interesting sights and sounds. Palma's mild Mediterranean weather is a big draw here and similar to other popular Spain touristy destinations such as Costa Blanca. 
Getting to Palma, Accommodation and Transportation
We took the airport bus (A1) to Palma city centre. Bus A1 runs every 15-30 minutes, with a fare of €5 for a one-way ticket and €8 for a return ticket while children up to 5 years old travel free-of-charge. The travel time from the airport to the city centre is about 30 minutes, of which the duration depends on the final destination within the city centre. 
We stayed at the Hotel Eden Palma Playa which was located along the popular beach strip of Playa de Palma. The highly-rated mid-range hotel is quite decent and clean with very good access to the beach and eateries along the beach strip. Tourists are required to pay a tourist tax of about 4 Euros per person (adult rate) in addition to the hotel rate. Other highly-rated mid-range hotels located along the Playa de Palma beach strip are:
We booked the hop-on-hop-off touristy bus service here in Palma as it was convenient and we only stayed overnight in Palma. The price is quite reasonable (about USD 25) and the bus stops at the main Palma landmarks described below.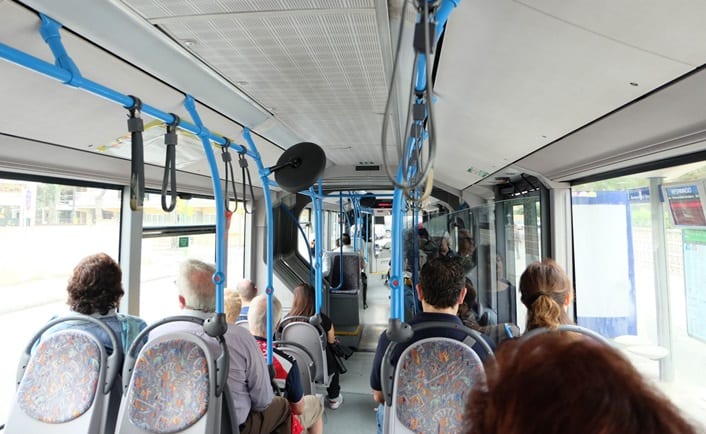 1. Cathedral of Santa Maria of Palma (La Seu)
The Cathedral of Santa Maria of Palma, also known as La Seu, is a Gothic-style cathedral which is one of the most iconic landmarks on the island. Its sandstone façade showcases intricate sculptural details and soaring bell towers while the south side exhibits a rose window that bathes the interior in colorful light. The cathedral's interior showcases high vaulted ceilings, slender columns and stained glass windows.
2. Royal Palace of La Almudaina
The Royal Palace of La Almudaina, also known as Palau de l'Almudaina, is an impressive historic fortress and palace. Originally constructed as an Islamic fortress during the Arab rule, it later underwent significant changes and expansions during the Christian period. The palace exemplifies a blend of architectural styles, featuring elements of Islamic, Gothic, Renaissance and Romanesque influences.
3. Castell de Bellver (Bellver Castle)
Castell de Bellver, or Bellver Castle, is a unique fortress located on a hilltop overlooking the city of Palma. It is one of the few circular castles in Europe, making it a distinctive architectural gem. The castle was constructed in the 14th century and it served various purposes throughout its history, including as a royal residence, military stronghold and even a temporary prison.
Pueblo Español (also known as Spanish Village) located in Son Espanyolet was first developed in the 1960s and represents typical elements of urban architecture in Spain. It exhibits a wide range of replica Spanish houses and other monuments. Presently, it hosts short-term exhibitions and provides multi-purpose spaces for businesses.
Passeig del Born is a vibrant and lively boulevard located in the heart of Palma city centre. The boulevard stretches from Plaça Joan Carles I to Plaça de la Reina, cutting through the historic center of Palma. Passeig del Born's unique blend of history, architecture, shopping, dining and nightlife makes it a must-visit destination for anyone exploring Palma de Mallorca.
Playa de Palma, also known as Palma Beach, is a popular and vibrant beach resort located just south of the capital city which stretches along the eastern coast of the Bay of Palma. There are plenty of resorts, hotels and eateries dotted along the beach stretch.
In Palma de Mallorca city centre, there are two prominent marinas, namely, Real Club Náutico de Palma (RCNP) and Club de Mar-Mallorca that cater to boating enthusiasts and visitors looking to experience the nautical lifestyle. These marinas are conveniently located near the heart of the city, making them easily accessible for both locals and tourists. Both are near the iconic La Seu Cathedral and the historic old town. The marinas' proximity to the city center allows easy access to popular tourist attractions, shopping areas and a diverse array of dining options, making them excellent spots to explore during a visit to Palma de Mallorca.
Food in Palma de Mallorca
The food in Palma de Mallorca reflects the island's rich Mediterranean and Spanish heritage. They are characterized by an abundance of fresh seafood from grilled fish and paella with seafood to caldereta (Mallorcan seafood stew) and garlic shrimp. Similar to other Spanish regions, there are tapas abound, such as Spanish omelet, patatas bravas and more. For travellers looking for a local foodie experience, they could hire a local online to act as a guide.