Alnwick Castle is a highly popular destination for people living in North East England and Scotland. It has been home to the Duke of Northumberland's family, the Percys, for more than 700 years. In our previous stay in Newcastle (and greater North East England), we did a Alnwick/Alnwick Castle day trip – the experience was well worth it and we highly recommend it to tourists (especially families) visiting Newcastle or Edinburgh. In this post, we outline our experience in getting from Newcastle to the Harry Potter/Downton Abbey-popularised Alnwick Castle via public transportation (bus). We also outline the interesting activities available at Alnwick Castle.
As described in our Newcastle post, we have stayed at the following hotels, which you might want to consider if you prefer to use Newcastle as a base:
Sandman Signature Hotel (about GBP 100 for a deluxe twin room without breakfast). It is conveniently located next to St James Park and features modern clean rooms. 
The Caledonian Hotel (about GBP 80 for a double room with breakfast). Located right in the heart of Jesmond (an upscale neighbourhood with boutiques and cafes), the hotel is generally clean though the rooms are a bit dated.
Crowne Plaza Newcastle – Stephenson Quarter (about GBP 100 for a standard room with breakfast). A good option for travellers with clean rooms and relatively modern decor – 5-10 mins walk to the city centre.
For travellers doing a day trip from Edinburgh, they might want to consider a packaged tour to Alnwick from Edinburgh –  such tours can be booked via operators such as Viator (link). 
Newcastle to Alnwick via Bus
We travelled from Newcastle to Alnwick via the X15 bus by Arriva because it was the cheapest option. The travel duration was approximately 1 hour and 22 minutes from the Haymarket Bus Station (just right beside Marks & Spencer) to Alnwick Bus Station. Tip: In order to enjoy most of the interesting activities (like Broomstick Training) at Alnwick Castle, travellers need to reach Alnwick Castle by 10 am to take a queue number to avoid disappointment). 
You can purchase the bus ticket online via Arriva or from the bus driver. An adult return ticket (or rather Adult Day North East Regionwide ticket) cost would cost GBP 8.60 online. Tip: This is an unlimited day ticket which permits travellers unlimited rides on any Arriva bus throughout the day within the North East region. Therefore, we highly recommend the X15 for any North East travellers hoping to reduce their travel costs. We thoroughly enjoyed our X15 bus ride as it passed through quaint villages and the vast Northumberland countryside. 
We alighted from the bus at the Alnwick Bus Station and walked to the Castle while bypassing the town centre. Directions to the town centre and Castle are prominently signposted throughout Alnwick so it was not difficult to find our way.  Be sure to check out the Alnwick Market located right in the middle of the town centre. 
The Cookie Jar - Fantastic Hotel for Stay or Afternoon Tea
Besides going to the Castle, we also had Afternoon Tea at the Cookie Jar – a very quaint and cosy hotel close to the Castle. The hotel has been tastefully furnished to give a very posh traditional English vibe. We did not stay overnight in Alnwick and regretted the decision because the Cookie Jar was such a gem of an accommodation. We would highly recommend travellers to stay for the night in this very quaint hotel.  
Alnwick Castle: What to Expect
Entrance tickets for Alnwick Castle can be purchased online from its official website. An unlimited-visit adult ticket costs GBP 19.50 which is valid for 12 months from the initial visit (during castle opening hours). Entry to the Castle can be via the front or the back entrance. There were a few fun activites when we were visiting the Castle and we did the following in this order:
Dragon Quest
Broomstick Training
Magic Show
Free & Easy @ Artisans Courtyard
It should be noted that our entrance fee covered the activities and we did not get charged for the above. Tip: Be sure to take your queue number immediately after entering the Castle for Broomstick Training at the Courtyard because it is the most popular activity for kids. Similarly, if the queue for Dragon Quest (a "dungeon" with lighting effects) was short, be sure to get in early to avoid the crowds from building up.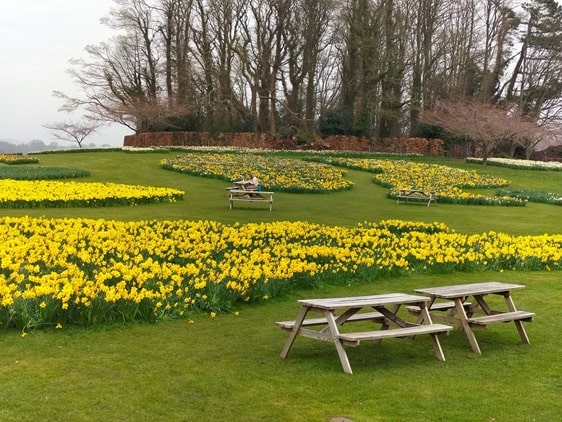 The Artisans Courtyard is a fantastic public space where Castle staff dress up and get into character and "peddle wares". If you are visiting with children, be sure to get them to dress up in medieval character outfits, get free crafts and play medieval games in the square. There is no need to book or take a queue number for the Courtyard visit.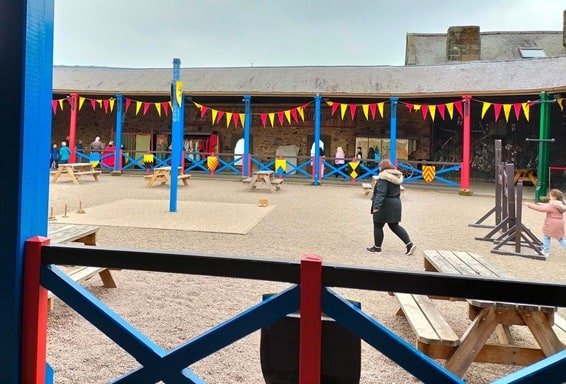 The highlight for our trip was the Broomstick Training as our child was a huge Harry Potter fan. Remember, get your queue number immediately after entering the Castle because it runs out almost immediately. The "professors" of Hogwarts will "teach" the kids how to "ride on the broomstick" – a very fun activity highly recommended for families. We attended the Magic Show right after the training as both activities were held at the same lawn within the Castle.
There are plenty of options for food and beverages in Alnwick Castle. Seatings can be both indoors and outdoors with several food stalls (Greek Gyros to a traditional Hog Roast) and a fish and chip restaurant (Stables Fryery) located within the Castle square. These are available from the Easter weekend.
Once we were done for the day, we got on the X15 bus for our trip back to Newcastle. We waited at the bus stop in front of The Plough pub (map shown below). We would recommend travellers (if they have time to spare) to stop by Morpeth, a nice market town located along the X15 route back to Newcastle.