With the announcement of the Saudi Vision 2030 framework in 2016, Saudi Arabia is starting to attract more tourists to the country – the introduction of the relatively accessible tourist e-visa in 2019 means that Saudi Arabia is more accessible to tourists than before. In this travel guide, we outline the basic information and things to do for tourists intending to visit Riyadh, the capital of Saudi Arabia, for the first time.
At the Airport - King Khalid International Airport
Ride-hailing companies such as Uber, Careem and Bolt are quite prominent in Riyadh and such transport can be conveniently used at the airport or around the city centre. A trip from the King Khalid International Airport to Olaya (the business district/city centre) via Uber costs approximately SAR 100 (USD 25-30). The waiting spot for Uber and other ride haling services are clearly marked at the airport main exit. SIM cards can be purchased at the airport via established telcos such as STC. Hint: Saudis use WhatsApp widely – for example, tour agents may use it to communicate with tourists, so it might be good to have it installed before flying into Riyadh. 
Getting Around and Traffic
An advice for tourists intending to rent a car – don't! Drivers in Saudi Arabia are notorious for being errant on the road and drive dangerously. Save your sanity by using Uber, Careem or Bolt instead of driving. Ride-hailing cars are not as abundant as regular Riyadh taxis, therefore, anyone using a ride-hailing app should factor in additional 5-10 minutes to ensure punctuality. Another thing to note is that traffic jams in Riyadh are very common. Anyone heading to the city centre should take note of the rush hour period which runs from 7:00 to 9:00 am and 2:30 to 8:00 pm. 
When we visited Riyadh, we stayed at Courtyard Marriott – Diplomatic Quarter which is located on the fringe of the City Centre. The hotel was decent with good service though the only bugbear was its location which was not central.  For those considering a more (affordable) central location, the following hotels are recommended:
The go-to restaurant for tourists hoping to taste authentic Saudi food is Najd Village, which has three branches in Riyadh. The quintessential Saudi food is Kabsa, a mixed rice dish with meat (usually chicken). Be sure to order camel milk as well – it tastes a bit like yogurt which according to locals, must be taken before a meal. American food and beverage companies such as Dunkin' Donuts and Starbucks are widely found throughout Saudi Arabia. Their McDonald's equivalent is Kudu, which is ubiquitous in the City Centre.  
We have listed several things to see and do within Riyadh in the following section. All these hotspots can be easily reached via ride-hailing. For tourists interested in venturing out of Riyadh for a day trip in the desert, the following tours are recommended:
1. Kingdom Centre, SkyBridge & City Centre
The Masmak Fortress (also known as Al Masmak Palace Museum) was originally a military base which had been converted into a museum exhibiting artefacts, arts and cultural works. Next to the fortress lies the Alsafat Square (Deera Square), a place which was used to carry out capital punishment in Riyadh. 
Next to Alsafat Square, lies Souq Al-Zal, a typical Souq (traditional marketplace) which is essentially the oldest and biggest antique market in Riyadh. Be sure to check out local products such as perfumes, camel leather products and Arabic coffee pots. 
4. Al-Bujairi Heritage Park
The Al-Bujairi Heritage Park is a sprawling area consisting of parks, a dining hub (Bujairi Terrace) and a market. Bujairi Terrace is a luxury dining destination that houses 21 restaurants in the middle of the historical district of Diriyah. To enter the Bujairi Terrace and At-Turaif, tourists will need to purchase a ticket (Diriyah Entry Pass). From Sunday to Wednesday tickets are priced at SAR100 while the price for Thursday to Saturday are SAR200. Tourists will be able to redeem the value of the Diriyah Entry Pass on food and beverages at all the restaurants. The pass can be purchased online from this official website. 
5. At-Turaif World Heritage Site
The Diriyah Entry Pass entitles holders to combine their Bujairi Terrace trip with a trip to the At-Turaif World Heritage Site located just next to the Terrace. At-Turaif contains remains of ancient human settlement in a desert environment and features fascinating Najdi and Islamic architectures. The area had been refurbished into a museum which was open to the public in 2022. Be sure to visit a section on living history at the museum as the staff members reenact historical Saudi cultures. The area is a must-visit for tourists in our opinion.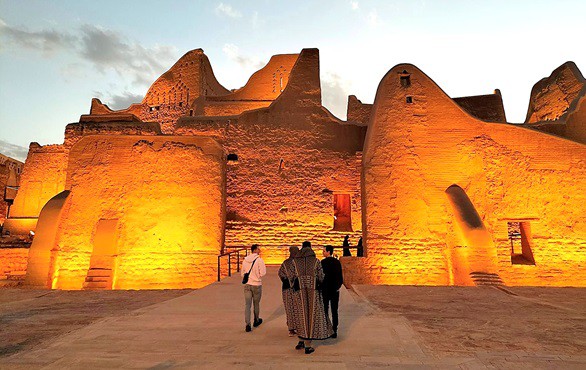 6. Murabba Historical Palace & King Abdul Aziz Memorial Hall
The Murabba Historical Palace is a building that provides a glimpse into the Saudi Royal family. Similar with traditional buildings, the palace was constructed using Najdi architecture and ornamented by palm-fronds layered walls. The Palace is connected to the King Abdul Aziz Memorial Hall which showcases documents, archives and car collection belonging to King Abdulaziz, the first Saudi monarch.
King Saud University is the most prestigious public university in Riyadh. The campus is sprawling and features large structures and unique architectures which might interest tourists visiting Riyadh for the first time. 
Riyadh has plenty of shopping malls many of which feature well-known Western-based products and luxury items. These include Al Mamlaka shopping mall (Kingdom Centre), Riyadh Gallery Mall, Panorama Mall, Al Garawi Galleria, etc.