In our opinion, Ghent is an underrated small touristic city and boasts picturesque old town landscapes and a relaxing atmosphere. To reach Ghent, we took a train from Brussels in a late spring period, a couple of years ago. Here, we list several things to do as well as the accommodation that we stayed in Ghent, Belgium. Any visitors to Belgium should at the very least, combine a visit to Brussels with Ghent and/or Bruges. 
1. Getting to the Old Town Centre
We arrived at Gent-Sint-Pieters railway train station in the afternoon. The tram stop was located a few hundred metres away from the train station entrance next to the Virginie Lovellinggebouw building. The tram ride costs about 2 Euros per person if bought at the ticket machine at the tram stop. The tram ride to the old town was quite brief. As an alternative to rail travel from Brussels, tourists can opt for a cheap bus day trip (USD 38) instead if that is their preference.
For accommodation, we (three of us) stayed overnight at the excellent Novotel Gent Centrum (Novotel Ghent) for 100 Euros (superior room without breakfast). This is a good accommodation option for mid-to-budget travellers (despite its ugly facade) due to its clean/modern rooms and good location – very short walking distance to old town centre.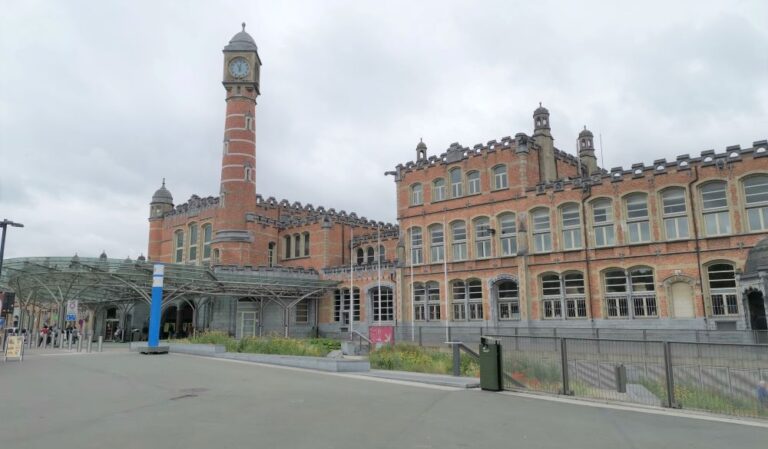 2. Visit Saint Michael's Church
Saint Michael's Church is located directly in front of our accommodation at Novotel, Ghent. The gothic-styled church is said to contain many sculptures and paintings created by famous masters including Anthony van Dyck.
3. Take a Stroll on Graffiti Street
The local Graffiti Street is located behind our accommodation at Novotel, Ghent. It is sandwiched between the hotel and Onderstraat street (a shopping street). 
Gravensteen is a 12th-century medieval stone castle. The interior of the castle contains plenty of torture devices as well as armour. The castle had been previously refurbished as a prison, court and cotton factory. The castle looks quite similar to Welsh castles that we encountered on our Wales road trip. 
5. Graslei, Korenlei, Kraanlei and Old Town
Graslei is essentially a quay on the right bank of the Leie (Lys) river while the opposite is Korenlei. They were both a medieval port and now developed into touristic hotspot. The quay has very high concentrations of cafes, restaurants and watering holes. 
The old town vibrant and touristic areas of Graslei, Korenlei and Kraanlei are simply stunning. The scenic views of the old town are especially striking at nighttime – the building reflections on the Leie river provide photographers with ideal photography spots and instagram shots. Picturesque spots include Grasbrug bridge and either sides of the embankment at Korenlei. Check out the images of the Leie river in this post which were captured using smartphones. 
Around the corner from Korenmarkt, there is Grasbrug bridge and you will find plenty of moored boats. It is highly recommended to take a boat ride/tour on the Leie (Lys) river. Guided boat trip (USD 11 for 40 mins) can be booked online via Viator from this link. Departure is from Graslei – ticket house with green/white stripes.