Discover the rich history and cultural heritage of Malacca (a.k.a. Melaka), a Malaysian city listed as a UNESCO World Heritage Site known for its historical significance and diverse influences. It offers a mix of architectural influences from its Dutch, Portuguese and British colonial periods, along with a rich blend of Malaysian, Chinese, and Indian cultures. The city's vibrant atmosphere, bustling weekend night market and the meandering Malacca River make it a popular tourist destination, offering a glimpse into Malaysia's multiethnic past. Read on for tips and travel guide for this rich cultural city. 
We would recommend taking a bus ride from either Kuala Lumpur or Singapore to Malacca City as it is very affordable with very frequent services. Bus tickets can be purchased online via this website. A day trip can also be done comfortably and cheaply via a tour (booked via Klook). 
Bus from Kuala Lumpur (Station: Terminal Bersepadu Selatan) to Malacca City:
Bus tickets typically range from RM 10 to RM 25, depending on the bus operator and service type. The bus journey takes approximately 2.5 to 3 hours, depending on traffic conditions and the chosen bus service.
Bus from Singapore to Malacca City:
Bus tickets from Singapore to Malacca City range from RM 80 to RM 120, depending on the bus company and service. The bus journey can take around 4 to 6 hours, depending on traffic and customs clearance at the border.
We highly recommend staying at quaint boutique hotels within the city centre. Boutique hotels in Malacca City are known for their distinctive architecture, decor and themes that set them apart from larger chain hotels. Some boutique hotels are converted from traditional shophouses, which are narrow, two or three-story buildings commonly found in the historic district. Some boutique hotels incorporate Peranakan or Straits Chinese architectural elements, characterized by colourful tiles, intricate wooden carvings and ornate patterns. Here are some highly rated boutique hotels in Malacca City:
Liu Men Hotel Melaka is the most heavily featured Malacca boutique hotel on Instagram but it is also the most expensive. We stayed at the 1825 Gallery Hotel because it was value for money (RM 170/USD 38 for base room without breakfast) and ticked all the right boxes – own parking space, located along the river, 1 min walk to Dutch Square and close to cafes and eateries. Check out the hotel photos below.   
Things to Do & Attractions
1. Dutch Square (Red Square)
Dutch Square, also known as Red Square, is a prominent historic area in Malacca City. It is characterized by its distinctive red-painted buildings and colonial architecture, dating back to the Dutch colonial period in the 17th century. The square features several key landmarks including the Stadthuys, an impressive Dutch-era town hall, and the iconic Christ Church, a centuries-old Protestant church. The square is a popular tourist destination and a significant part of Malacca's UNESCO World Heritage site, attracting visitors with its charming, well-preserved structures and picturesque surroundings along the Malacca River.
Originally built by the Portuguese in the 16th century, this church was one of the oldest in Southeast Asia. Today, only the stone ruins of the church remain atop a hill overlooking Malacca City. Visitors can climb the hill to explore the picturesque ruins, which offer a glimpse into the city's colonial past. The site provides a serene and historically significant viewpoint.
A Famosa is a historic fortress that represents the remnants of Portuguese colonial influence in the region. Built in the early 16th century by the Portuguese explorer Alfonso de Albuquerque, this fortress served as a defensive structure during the Portuguese occupation. It's a popular tourist attraction and an iconic symbol of Malacca, offering visitors the opportunity to explore a piece of the city's colonial history and enjoy panoramic views from the top of the gatehouse.
Jonker Walk, also known as Jalan Hang Jebat, is a famous street in Malacca. Jonker Walk is the heart of Malacca's Chinatown and is lined with charming colonial-era buildings that house various shops, restaurants and stalls. Visitors can explore a diverse array of offerings, including delicious street food, handicrafts, antiques, clothing and souvenirs. The market offers a lively atmosphere, with street performances and a chance to experience the rich cultural heritage of Malacca. Jonker Walk is a must-visit destination for those looking to immerse themselves in the city's history and enjoy its vibrant contemporary scene. Some of the attractions along Jonker Walk is listed below:
Taman Warisan Dunia
Cheng Hoon Teng Temple
Tan Kim Hock store 
Cheng Ho Cultural Museum
Mamee Jonker House
5. Jonker Street Night Market
Jonker Street Night Market, located in the heart of Malacca City, is a vibrant and bustling night market that takes place every weekend, primarily on Friday and Saturday evenings. This popular market is famous for its lively atmosphere, offering an array of street food, unique handicrafts, clothing, antiques and souvenirs. Visitors can explore a diverse range of stalls and vendors selling everything from local delicacies like chicken rice balls and coconut pancakes to traditional trinkets and vintage items. 
The Melaka River Cruise offers visitors a scenic and leisurely boat ride along the historic Melaka River. It provides an opportunity to admire the city's charming architecture and cultural heritage from the water. The cruise takes you past various landmarks, including colorful buildings, old warehouses and bridges, thus creating a picturesque and serene experience. Tickets can be bought at a physical booth located next to the Dutch Square and Tan Kim Seng Bridge or online.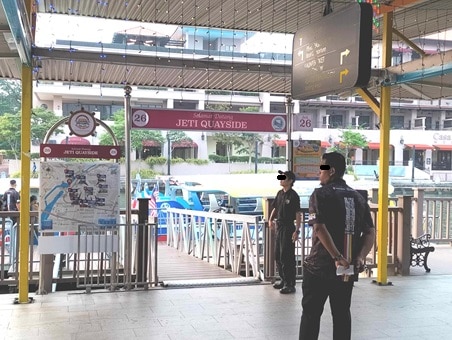 Malacca is renowned for its unique and diverse culinary offerings, reflecting its rich history and multicultural influences. Some of the must-try unique foods in Malacca include:
Chicken Rice Balls: Malacca's take on Hainanese chicken rice is distinctive for its serving of chicken with rice rolled into small, flavorful balls, typically served with chili sauce and ginger paste.

Satay Celup: A variation of the popular satay, Satay Celup involves skewering a wide range of ingredients like seafood, vegetables and meat on sticks, which you then dip into a communal pot of boiling satay sauce.

Cendol: A refreshing dessert, Cendol consists of shaved ice, green rice flour jelly and palm sugar syrup, often topped with ingredients like red beans and coconut milk, making it a popular choice to beat the tropical heat.

Nyonya Food: Also known as Peranakan or Straits Chinese cuisine, it is a unique and flavorful culinary tradition that blends Chinese and Malay influences. It's characterized by a harmonious combination of aromatic spices, herbs, and fresh ingredients. Some popular Nyonya dishes in Malacca include dishes like "Ayam Pongteh" (chicken stewed in a sweet and savory sauce), "Laksa" (spicy noodle soup with coconut milk), "Otak-Otak" (grilled fish cake) and "Baba-Nyonya Chap Chye" (mixed vegetable stew). These dishes often feature a medley of flavors, including a balance of sweet, savory, and spicy elements
Street art in Malacca is a vibrant and integral part of the city's cultural landscape. The historical streets of Malacca are adorned with colorful murals, graffiti and street installations that depict the city's rich history, culture and traditions. Many of these artworks are found in and around Jonker Street. The street art in Malacca often pays homage to the city's diverse heritage, featuring themes related to its multicultural influences, including the Portuguese, Dutch, Chinese, and Malay cultures.