Northern Ireland is a tourist destination with a range of attractions that cater to various interests. Its landscapes vary from coastal cliffs to rolling hills, offering opportunities for outdoor activities such as hiking and sightseeing, much like northern England. Some visitors are drawn by the filming locations of "Game of Thrones." It's important to note that Northern Ireland has a complex history of conflict, which is reflected in murals and guided tours in certain areas. In this post, we describe our experience in visiting this unique country which is essentially a part of the United Kingdom – The country uses the Pound Sterling (£) as its currency.
Accommodation and Transport
We travelled from Belfast International Airport to Belfast City Centre by bus via the convenient Airport Express 300 service operated by Translink. The bus takes about 40-50 minutes to reach the central Europa Bus Station in Belfast. The fare for a single journey is about £8 – tickets can be purchased at the tourist information desk within the airport or via contactless payment in the bus. 
We stayed at the Best Western Crescent Townhouse at a rate of USD 120 for a base room inclusive of breakfast. The hotel is located at a decent location along the vibrant Botanic Avenue in the Queen's Quarter. It's primarily recognized for its diverse range of cafes, restaurants, shops and cultural establishments. Other highly-rated hotels with similar price range are listed in the following:
We took the highly-rated Belfast City Sightseeing Hop-On-Hop-Off Bus Tour (USD 26) which essentially covered all the main landmarks in Belfast. In terms of public transport, Belfast has an extensive bus network operated by Translink. Metro buses operate within the city and its suburbs while Ulsterbus services connect Belfast with towns and cities across Northern Ireland. Taxis, both traditional ones and ride-sharing services like Uber are available for convenient point-to-point travel within the city.
Attractions and Places to Visit
Belfast's city center is a vibrant hub of tourist attractions, offering a blend of historical landmarks, modern shopping districts and cultural hotspots. Visitors can explore the City Hall with its unique architecture and manicured gardens, indulge in retail therapy at Victoria Square Shopping Centre and immerse themselves in the Titanic Quarter. The bustling streets are lined with charming cafes, restaurants and traditional pubs, creating an inviting atmosphere to experience the local culture and hospitality.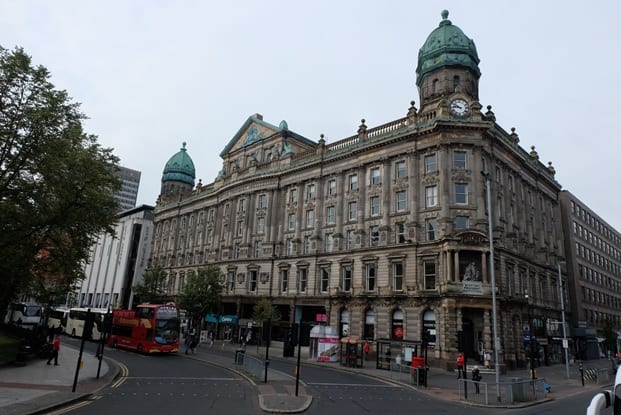 2. Titanic Belfast museum
The Titanic Belfast museum is located in the heart of Belfast. Designed to resemble the hull of the Titanic ship, the museum offers an immersive and informative experience dedicated to the history of the Titanic, from its construction in the city's shipyards to its tragic maiden voyage. Through interactive exhibits, multimedia displays and artifacts, visitors can learn about the ship's design, the lives of its passengers and crew and the events leading up to the disaster. 
Adorning the walls of neighborhoods like the Cathedral Quarter and Falls Road are large murals depicting themes ranging from Northern Ireland's troubled past and its sectarian divisions to messages of peace, unity and resilience. The murals serve as a visual narrative of the city's complex social fabric and its journey toward reconciliation, showing both the struggles and aspirations of its people. Tips: check out the large Bobby Sands mural – he was an Irish republican and member of the Provisional Irish Republican Army (IRA) who gained significant attention for his role in the 1981 Irish hunger strike.
A UNESCO World Heritage Site, the Giant's Causeway is a natural wonder featuring around 40,000 interlocking basalt columns formed by volcanic activity. These columns, characterized by their hexagonal shape, were created through volcanic activity millions of years ago. Over time, erosion and cooling lava led to the formation of these interlocking columns, resulting in the unique landscape seen today. The site offers scenic coastal views and a chance to explore the unique geological formations. The Causeway can be easily visited via a day tour (USD 39) from Belfast. 
A picturesque avenue of beech trees, the Dark Hedges has gained fame as a filming location for the TV show "Game of Thrones." The branches of the trees intertwine overhead, creating a dense canopy that has earned the location its name. The site is often visited by tourists and photography enthusiasts due to its unique appearance. 
Another "Game of Thrones" filming location, these caves offer a dramatic coastal setting and are located in a quaint village with charming white-washed cottages. The Caves are a series of naturally formed limestone caves located along the coast of County Antrim. However, it's worth noting that the caves are relatively modest in size and might not offer a complex or extensive cave system for those seeking more extensive caving experiences. Tips: Visitors should be aware of safety considerations, such as unstable rocks and changing tides if they choose to explore the caves. Game of Thrones fans can book a specialised tour package from Viator that includes visits to the Dark Hedges, Giant's Causeway and Cushendun Caves, amongst others for just USD 60.