Discover the walled UNESCO World Heritage Site that houses a medieval citadel (Cité de Carcassonne) in this day trip guide. Travellers usually take a short flight (eg. Ryanair) or short train ride from Toulouse to Carcassonne. Carcassonne, made famous by the board game, is mostly used as a base location for budget flight travellers to explore nearby regions such as the surrounding wineries and the Pyrenees.
Carcassonne Airport is quite small and there are only a few flights per day flying into Carcassonne, mostly notably Ryanair flights. The rental car building is located just a few mins walk in front of the airport. A bus shuttle service is available at the airport, with each departure occurring 45 minutes after the arrival of each flight. The shuttle serves the Cité de Carcassonne, Square Gambetta, the SNCF station (and the Port du Canal) and Place Davilla (Price: €6 paid to the driver). A taxi service can be booked via the customer service desk at the airport – this is useful for non-French speaking travellers. A taxi ride from the airport to town centre costs about €15 while a ride from the airport to the Cité costs approximately €20.
Carcassonne Train Station
The train ride from Toulouse Matabiau to Carcassonne Train Station takes about 40 mins to 1.5 hour depending on the train service (price range: 10 to 20 Euros per person). There is no need to pre-book the tickets since there are many train services along this route and one can just show up at the station to purchase the ticket. Otherwise, tickets can be purchased online.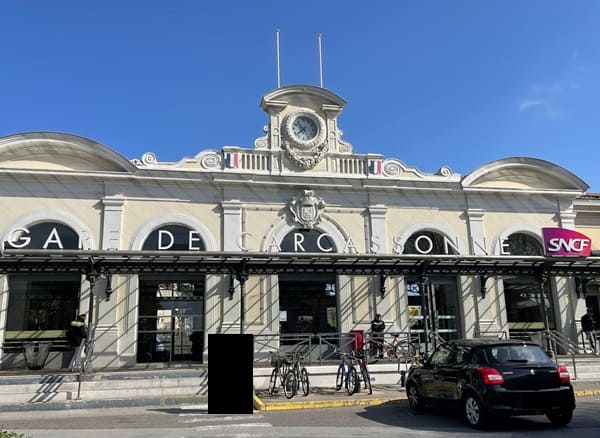 Getting around the town centre and Cite proved to be rather difficult for us since we are non-French speakers and there was no ride hailing services (no Uber or Bolt). As such, we could only get a taxi booked for us at tourist information centres at the town centre and within the Cite. The town centre itself was rather deserted and there were only a few tourists congregating at Place Carnot, the main town square. 
Compared to the town centre, the UNESCO heritage site, Cite' de Carcassonne is unsurprisingly crowded with tourists. Full of shops, markets, cafes and restaurants, the Cite is a must-visit destination. If you only have a couple of hours to spare, it is highly recommended to skip any trip to the town and head straight to the Cite. We took a train ride located at the Cite entrance which cost Eu 7 per person. The train ride itself was underwhelming because it just basically went around the Cite rather than within the Cite. There are a few accommodation options within the Cite:
Best Western Plus Hotel Le Donjon – Coeur de La Cite Medievale – affordable option.
Auberge de Jeunesse

– this hostel provides luggage storage service for non-staying guests.

Hotel de la Cite Carcassonne – MGallery – this is an upscale hotel.