Australia's South West region has fantastic wineries, beaches, forests and quaint small towns. Tourists can use Perth as a base for a road trip to explore the South West region. We did a road trip across 9 destinations within the region a few years ago (pre-covid, just two nights stay) covering a distance of more than 1000 km and these destinations are featured in this post. We hope it would be useful to you when planning your own itinerary should you decide to do a road trip across the region. For accommodation ideas in Perth, head over to our Perth post. One thing to note: beware of kangaroos while driving! We came across many roadkills (kangaroos) while doing this road trip.
Busselton is just approximately 50 km from Bunbury. The main attraction is the heritage-listed Busselton Jetty which has a train track on the (purportedly) longest timber-piled jetty in the southern hemisphere. The train ride was short but we were rewarded with fantastic panaromic views of the Indian Ocean. Busselton's main shopping street is located near its main beach. Busselton is also well-known for its whale watching activity but we did not participate as we were quite skint at that time. 
The Margaret River region has always been a regular holiday destination for Perth locals. We stayed overnight here at the Margaret River Hotel and while it was located in the main town area and quite clean, the room itself was merely OK and nothing to shout about. Margaret River is famous for its wineries, vineyards, forests, pristine beaches and granite outcrops. Margaret River is also home to very unique and brightly-lit caves (Jewel, Lake, Ngilgi and Mammoth caves) which are popular with tourists. 
From Margaret River, we passed by Pemberton, a small town located in Karri Country which is well-known for its towering forest trees (e.g. Gloucester, Bicentennial and Diamond fire lookout trees). We did not climb these lookout trees because there were literally more trees in our next destination for us to explore.  
Valley of the Giants is a region located between Walpole and Denmark and well-known for its Tree Top Walk which is suspended 40 metres high in the canopy of the ancient tingle forest. In addition to the Tree Top Walk, there is the Ancient Empire Walk amongst the red tingles (Eucalyptus jacksonii, a species of tall tree endemic to the region). 
Denmark is a small town situated in the Great Southern Region along the Rainbow Coast. The town itself does not feature many unique attractions – most visitors to the town will venture out to the nearby fantastic beach (Greens Pool) and unique rock formations (Monkey Rock and Elephant Rocks). The picturesque Greens Pool features white sandy beach and turquoise waters. Elephant Rocks are actually large granite boulders that look like a herd of elephants.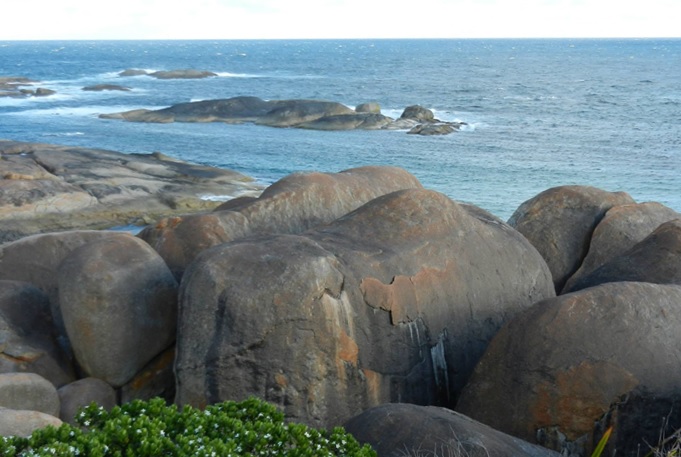 We stayed overnight in Albany, the most southern town on our road trip. We stayed at the Country Comfort Amity Motel and even though it gets good online reviews, we cannot really recommend it to fellow travellers because the room was old and in need of renovation – the "damage" was about USD 100 per night (yes, Oz hotels are expensive!). 
The landscape of Albany town was quite unique in a sense that there were many houses located on the lower slopes of hills. We visited the Dog Rock, a large granite outcrop on Middleton Beach Road that resembled a dog head. Albany has a fascinating but rather dodgy historical reputation as a whaling centre, as well as a convict and settler destination. Tourists can learn about Albany's history by visiting their museums and historical centres. 
The highlight of our road trip are the Gap and Natural Bridge located 18 km from Albany. The Natural Bridge is a granite formation that resembles a rock bridge while the nearby Gap (a few metres away) is essentially a granite "channel" carved by the waves of the Great Southern Ocean. The lookouts on both sites provided stunning views and they were frankly some of the best natural formations that we had ever seen – highly recommended!
From Albany, we drove about 100 km north to the Stirling Range National Park to visit Bluff Knoll, the highest peak in south Western Australia (1,095 metres above sea level). Upon reaching the foot of the peak, when I got out of the car to look for directional signs to the peak, my partner screamed at me – a swarm of flies found a resting place on my back. So folks, don't repeat my mistake and get an insect repellent before visiting the region. The place was deserted when we reached the foothill. 
Wagin is located some 200 km from Bluff Knoll and was our last town stop before heading back to Perth. It is an agricultural-based town, predominantly wheat and sheep farming. The town is the home of the iconic Giant Ram (30 feet high), a giant replica of a merino ram. Other than the Ram, the Wagin Historical Village is another place where tourists could visit. It is a good reproduction of an old Australian Village and acts as a living historical museum.